What's Happening at the Indiana State Library Foundation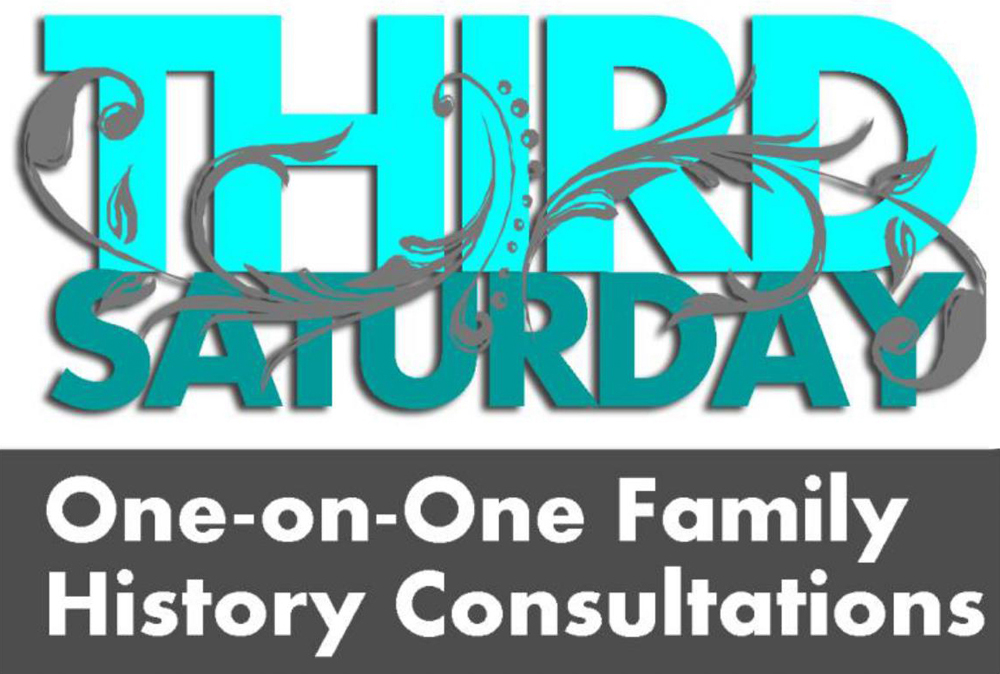 One-on-One Family History Consultations Third Saturday of Every Month
Do you need help getting started? Have you hit a brick wall? Need information about what we have and how it can help you with your genealogy research? The Genealogy Collection of the Indiana State Library is offering 30 minute individual consultation sessions with one of our reference librarians on the third Saturday morning of every month.
Email spfundstein@library.in.gov to schedule an appointment. All appointment request must be submitted 5 business days before the third Saturday of the month. Please include topics and questions you would like to have addressed. If you have completed any research please bring it with you.
Free orientation tour enable researchers to learn where the genealogical tools they need are located. Learn what resources the Indiana State Library holds for genealogists, and where to find them in the building.
Directions and Parking Information for Visitors
The Indiana State Library will host the annual Indiana Genealogy and Local History Fair in downtown Indianapolis. Admission is free and open to the general public. This year's theme is "Sacrificing and Shaping the Future," commemorating the Centennial of the Great War and examining military resources and history.
Over 30 organizations and exhibitors will be in attendance. Visit the tables in the exhibition hall to collect information from genealogical and local history organizations, and shop the commercial vendors.
Highly acclaimed, internationally known speakers and genealogy consultants, Kathleen Brandt and Katherine R. Willson, will present.
• Speaker Information
• Genealogy and Local History Fair Program
Parking is available in the Senate Avenue parking garage for $10.00. The garage accepts credit cards, only. No cash payments will be accepted.
LEUs available. Register for LEUs via email at crward@library.in.gov. (Registration required for LEUs.)
Bring along historic or documentary photographs from across the state to be copied, cataloged, and shared by the Indiana Album, Inc. Staff will carefully handle and scan your photographs during the fair. This community digitization project seeks images from all eras of towns, buildings, houses, businesses, farms, events, and interesting people. To learn more and to see some of the 10,000+ images loaned so far, visit www.indianaalbum.com.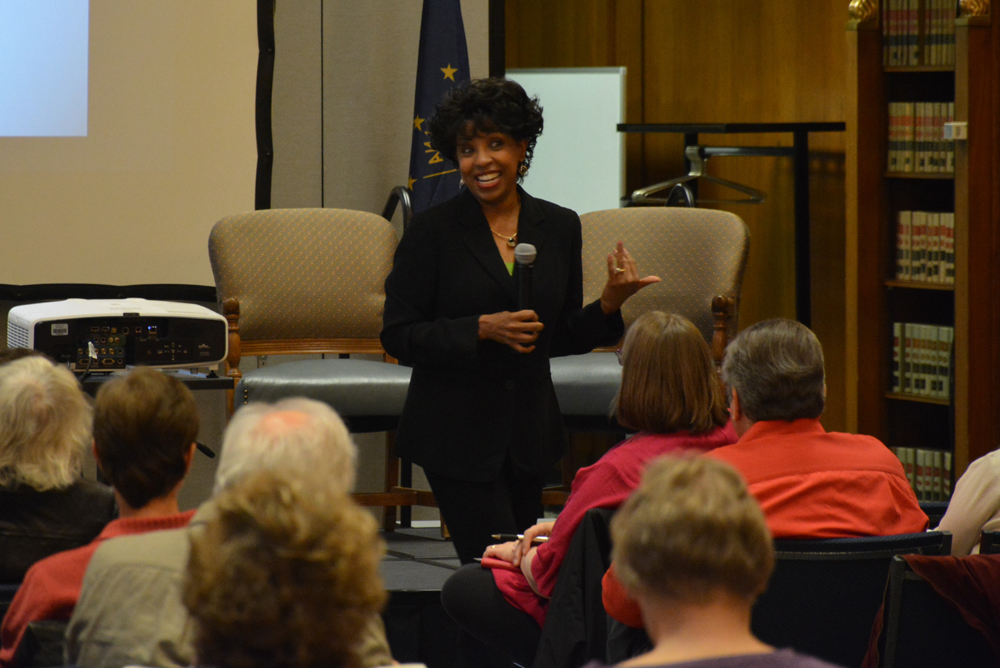 Guest speaker Kathleen Brandt, an international genealogy consultant, speaker and writer, has over 10 years experience as a professional genealogist and is a licensed private investigator. Her clients include NBC's "Who Do You Think You Are?" and PBS's "Finding Your Roots."
She has extensive experience in in international and nationwide documentation retrieval, military record reconstructions, tracing slaves, as well as European records.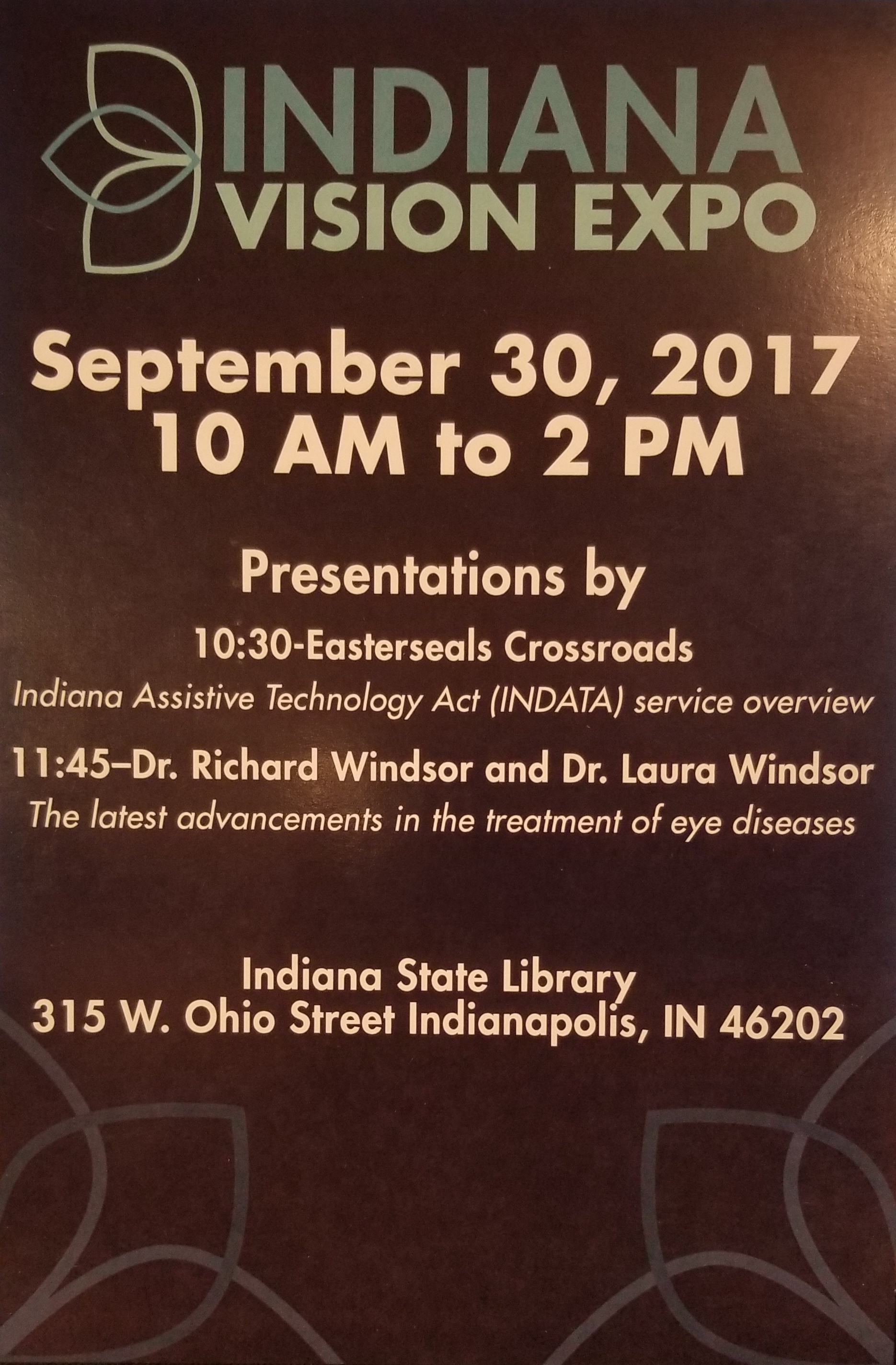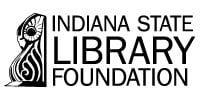 Please join us for the 12th annual Indiana Vision Expo on Saturday, September 30th from 10 am to 2 pm. The Expo, brought to you by the Indiana Talking Books & Braille Library, features a wide variety of vendors and not-for-profit agencies that provide cutting edge technology, independent living aids, and service and resource information for all ages.


Join us for presentations by Easterseals Crossroads and Dr. Richard and Laura Windsor from the Low Vision Centers of Indiana. We hope to see you there!
The 1st Annual Golf Outing for the Indiana State Library Foundation was held on Wednesday, August 30th at the beautiful Woodwind Golf Course in Westfield. It was a beautiful sunny day, with a nice breeze, making it a pleasant afternoon for all.
About 10 foursomes enjoyed lunch and 18 holes of golf to support the Foundation and the state library programs.
Thank you to those corporate sponsors and individual players who came to spend the day with us and show your support for the Indiana State Library Foundation!