What's Happening at the Indiana State Library Foundation

Emmy Award-winner Dick Wolfsie of WISH-TV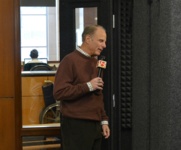 Recently, Emmy Award-winner Dick Wolfsie of WISH-TV stopped by the Indiana State Library to learn more about the Indiana Voices program. He met with Indiana Voices studio director, Linden Coffman, to get a basic understanding of what Indiana Voices is and how the program works. While he was there, he also met two recording studio volunteers, Nelson Goud and Stuart Remali, to see what it is like to be a volunteer in the recording studio for Indiana Voices.
The Indiana Talking Book and Braille Library provides library service to Indiana residents who cannot use standard printed materials due to a visual or physical disability. Indiana Voices is a program within the Talking Book Library that focuses on recording books by Indiana authors or with another Indiana connection that otherwise would not be available in an accessible format.
See more pictures of Wolfsie's visit here. See the WISH-TV video segments here.
To view the books in the Indiana Voices collection, visit the online catalog, search for "Indiana," select subject and then choose Indiana Digital Voices from the media drop down list. Visit the Indiana Voices website at this location.
Poetry Out Loud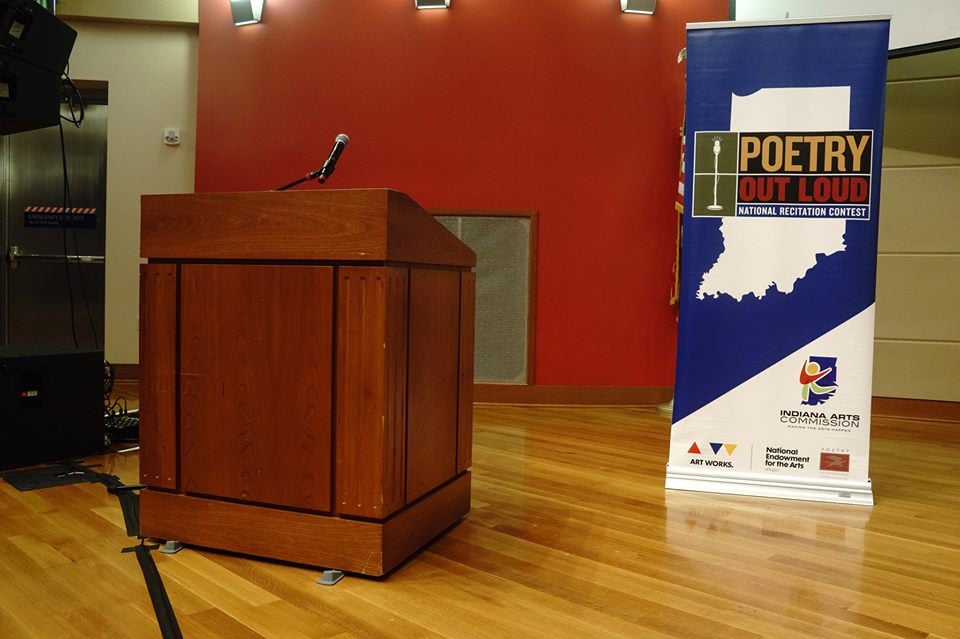 "Poetry Out Loud encourages students to learn about great poetry through memorization and recitation. This program helps students master public speaking skills, build self-confidence, and learn about literary history and contemporary life.
Join us at the Indiana State Library February 17 for the 2018 State Finals.
Each winner at the state level receives $200 and an all-expenses-paid trip with an adult chaperone to Washington, DC, to compete for the national championship.
The state winner's school receives $500 for the purchase of poetry books. The first runner-up in each state receives $100, with $200 for his or her school. A total of $50,000 in awards and school stipends is awarded annually at the National Finals.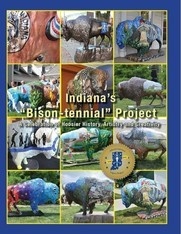 'Indiana's "Bison-tennial" Project,' book now available for pre-order.
The final Indiana Bicentennial book, "Indiana's 'Bison-tennial' Project," is now available for pre-order. This is the companion book to "Indiana at 200" and highlights the Bicentennial bison projects throughout the state, including Cookie the Bison at the Indiana State Library. The book has been mailed out to public libraries and will be arriving soon, if it hasn't already arrived.
From the publisher: "This new, all-color book that commemorates this unique project celebrating the Bicentennial of our state. 'Indiana's "Bison-tennial" Project: A Celebration of Hoosier History, Artistry and Creativity' is a coffee-table style book that highlights the last of the state's birthday celebrations. A must-have for your local library, convention or visitor's bureau, business, historical or genealogy society or as a personal memento of our state's birthday."
The book comes in standard and leather bound editions and can be personalized . The book may be pre-ordered here. "Indiana at 200" may be purchased here.